Bought my luggage yesterday. Really makes things real (not that the $1500 deposit doesn't...). I ended up going to Macy's because they had a huge sale on a lot of things, including luggage, and then had a family and friends discount on top of that. They had a few great choices available, but ultimately I went with the
Samsonite spinners
, a 25" and a 21". Here's a picture of one: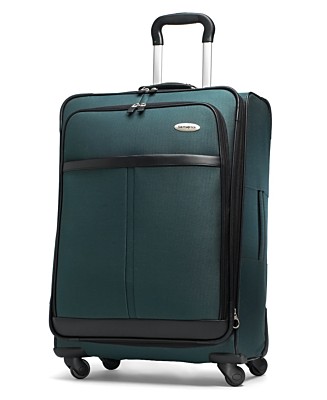 The reviews on the Macy's website weren't too awesome. One said the handle didn't work, another that the wheels didn't work well on carpet, etc etc blah blah blah. I dunno. I might return them, since I ended up spending around $216 on them. But again..I'm not too picky about what "not working" means. If I get a huge hole in them during the first time I travel with them...yes, that's "not working". If one of the wheels is a little sticky and doesn't work on carpet all that well...I can deal with it.
Which brings me to my next point: cost of flights. Knock on wood, the volcano in Iceland isn't really affecting flights any more, so odds are that I'm going to be flying with ease across the pond. Cheaptickets.com has some awesome prices, and originally I thought that Icelandair would be the best choice, since it's so cheap (I mean...flights starting at $310? Can't go wrong, right?). But now that I think about it, I'm already going to be exhausted from the time change. Do I really want to tack on a layover (possibly 8 hours)? So now I'm thinking of going with Virgin Atlantic, mostly because they have the cheapest option for a one-way nonstop that I can find. I even signed up for the
Flying Club
, since I'm assuming that I'm going to be a frequent flyer (even though the first time I will most likely be coming home is the middle of July). I'll be able to earn miles by booking flights with them. It's just...ugh. Do I really want to spend $1000+ on a flight?
However, I'm probably jumping the gun a little here. It is only May (HOW did it get here so quickly?!). There is no reason for me to be anxious about booking a flight RIGHT NOW. So I will stop thinking about it...
...
Oh, who am I kidding. I'm going to be worrying about it until I step on the flight. And probably while I'm on the plane, too.